Our second topic with Ms. Berryhill's Earth Science class from McCurdy High School was geology. We were pretty excited about this- last year our River Classroom students selected geology as a focus topic instead of biology in a vote of 14 to 1!
The high school students weren't quite that excited, but our review of igneous, sedimentary, and metamorphic rocks and the rock cycle went pretty well. Each student was handed a rock and a loupe. They had to guess what kind of rock they had. We discussed types of rocks and how to identify rocks, and then students got another few minutes to examine their specimen before explaining their guess to the class. In explaining their thought process behind their guess, we ensured that they actually had a thought process, rather than a random guess.
We also made up a rock's life story using the rock cycle. We went around the room, and each student selected the next stage of our story rock. I think most of the students thought that was pretty elementary, but it was a nice review before our big trip to Ghost Ranch. We got a fantastic tour of the Museum of Paleontology, where we learned about New Mexico's state fossil, the ceolophysis, which was discovered at Ghost Ranch. We were also treated to a view of the first complete skull of vancleavea, a swimming reptile that had some crazy looking armor!
After our fantastic (and very entertaining, thanks to paleontologist Alex Downs) tour, we headed out to the Chimney Rock trail, where we got a spectacular view of the Entrada Sandstone layer that's very visible around this area.
We made several stops along the way to discuss the layers that we saw along the way. We stopped to smell the Luciano Mesa limestone (It smells like natural gas when you break it off!), and we had to keep our eyes open for a giant rattlesnake that a different group had spotted on the trail not long before we ventured through.
If you're interested in the geology of Ghost Ranch, I highly recommend this website from New Mexico Tech. They have lots of figures to show the different layers of rock, and their descriptions make identification fairly straightforward.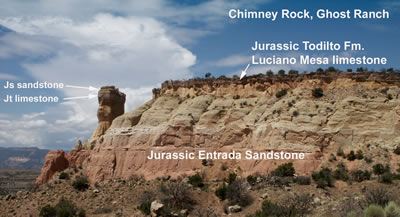 Chimney Rock makes a great hike because of the sweeping views of the Chama Valley from the top of the mesa. The Entrada Sandstone layer looks very different in Northern New Mexico thanks to its Neapolitan-esque yellow-white-red colors. In many areas you can clearly see the crossbedding that resulting from eolian dust transport when this layer was still giant dunes of sand.
Overall, the McCurdy students were fantastic, as usual. Our summary: geology rocks!
–Christy